HyperCard Zine
A new collection of HyperCard stacks curated by jae kaplan.
Now accepting submissions!
2018 is the year of HyperCard.
The last version of HyperCard, 2.4.1, was released 20 years ago in 1998. In that time, it's maintained small communities of hobbyists maintaining their stacks and creating new art on old computers. HyperCard has been used by LGBT and other marginalized people to make interactive art representing their experiences.
On the 20th anniversary of HyperCard's discontinuation, I want to pay tribute to the programming tool that started it all.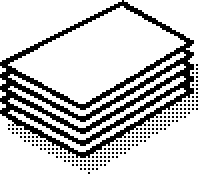 F.A.Q.
What is HyperCard?
HyperCard was/is a programming tool initially developed by Bill Atkinson at Apple. It allowed programmers and non-programmers alike to create games, applications, and tools using a point-and-click interface and a simple scripting language. The Wikipedia article has a lot of good detail and history.
How do you use HyperCard in 2018?
Your best bet is going to be using SheepShaver running Mac OS 9 and HyperCard 2.4. I'll be posting an in-depth tutorial on getting started soon, but for now there's a good SheepShaver tutorial at E-Maculation.
To get started with HyperCard, HyperCard.org (via the Wayback Machine) has some great guides and documentation.
Are you seriously calling it HyperCard Zine?
I reserve the right to rename it if I come up with a better name. @ me if you have a better idea.
I need inspiration! Where can I find some good HyperCard stacks?
The Internet Archive has a huge collection that are all playable in your web browser!
Who is running this?
I'm jae, I'm a software engineer (former Apple, current PlanGrid) who restores old computers as a hobby. I used to run a small-press comics publisher so this isn't even my first anthology.
On the personal side, I'm a lesbian who lives with her fiancée and cat and next door to her partner in Oakland, California. HyperCard is important to me as a medium that has been used by marginalized people to tell stories about their experiences without needing to be expert programmers. I want to see that legacy live on.
Submission Guidelines
Who can submit?
Anyone! I'm especially interested in seeing work from LGBT people, POC, and other marginalized groups, but everyone is welcome to submit a stack!
What should I make?
Whatever you want! Go hog wild. Make a game, some weird art, a contact card manager, whatever!
How should I prepare my stack?
Please make your stack using the Classic size template so that it is playable on older machines and in Mini vMac. While you're free to use color, I'd recommend against it so that you can guarantee how your stack will look on all machines.
Once you've finished your stack, please compress it in StuffIt to preserve any resource forks or other extended attributes. Email it to [email protected] along with your name, a quick bio, and anything else you want me to know.
Is there a submission deadline?
Right now there's a soft deadline of May 31st, but that's subject to change based on number of submissions received and etc. I'll post any updates here.
Will I get paid if I submit a stack?
All artists who end up in the final copy will get an equal cut of the revenue made from selling the collection. If you have any questions on this front, please email me.
What's the copyright situation on my stack?
HyperCard Zine will be published under a CC BY 4.0 license (details here). By submitting your stack, you are giving me permission to sell your stack as part of HyperCard Zine. I ask that, if your stack is published as part of HyperCard Zine, please wait at least a year after publication to sell it on your own.
You didn't answer my question!
Email me! I'm happy to help with whatever, just let me know what you need!